Reposted with permission from ValueInsured.
Let's set the record straight: millennials want to be homeowners. The myth that this generation of twenty-and-thirty-somethings is another group of aimless malcontents drifting around without steady addresses has been dispelled long ago. Millennials have proven themselves to be career-driven, family-forming and even real estate-loving – if only they could afford it.
Since its inception in Spring 2016, ValueInsured's quarterly Modern Homebuyer Survey has reported shifts in home buyer attitudes and confidence. However, the one thing that has remained constant is millennials' strong desire to own a home, currently at 77%. At the same time, millennial home ownership is now at the lowest level – at 35.3% – since the U.S. Census began tracking homeownership by age groups in 1982.
While millennials enjoy strong employment in this robust economy, many are not saving enough of their paychecks for a home. Today, millennial homeowner hopefuls are paying for $5 coffees (sometimes three of these daily) and $900 cell phones. According to a recent study, 53% of millennials spent recently on an Uber or taxi ride, and 73% on a music, sporting or other live entertainment events. 79% spent to dine at a hot restaurant in town.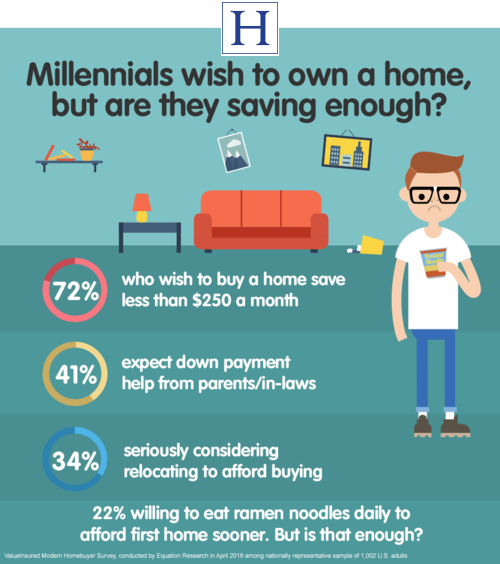 Compared to the last generation, today's millennial home buyers have more trouble competing for their disposable income, let alone their college debt and higher rents. It is not surprising that according to the latest Q2 ValueInsured Survey, 72% of all millennials who wish to buy a home save less than $250 a month.
In Q4 2017, our nation's median home down payment was $18,000; however, this number includes rural area homes where prices are on average lower, and where millennials are less likely to be looking to buy a home. So, it will likely take more than six years for most millennials to save for a down payment.
---
For more information on saving for a down payment, visit "5 Things You Should Know Prior to Making a Down Payment on a House" on the First Heritage Mortgage blog.
---
Perhaps knowing that their less-than-$250 savings per month will not be enough, 41% in ValueInsured's survey expect to count on down payment help from parents and in-laws (or are they not saving enough because they know they will receive parental help?). 34% report to be seriously considering a move to a less expensive market in order to buy a home sooner.
Despite the reports above of prevalent spending on live entertainment events and dining out, 28% say they are willing to give up cable, and 22% say they are willing to eat cheap ramen noodles daily in order to afford buying a home sooner.
In addition to effects on migration patterns and dietary habits, millennials' inability to save enough to realize their dream of homeownership may also have effects on our political landscape. 22% surveyed believe more politicians will find they need to promise and deliver on affordable housing in order to win future elections.
The next generation of first-time homebuyers has a monumental challenge in regards to making a down payment for a house, and they need a solution. Organizations, policymakers, and innovators that can help millennial homeownership become less of a problem, save enough to buy their dream home sooner, and help them preserve those savings will be more likely to stay competitive in politics, business and beyond.
Do you have questions? Speak with one of our certified mortgage professionals today!