Frequently Asked Questions and Disclosures
---
We think Mortgage +Plus by First Heritage Mortgage down payment protection provides a great value for consumers interested in protecting the hard-earned investment in their home.  But before you purchase, you should understand what is and is not covered, as well as how much coverage you will have.  This FAQ page describes important coverage highlights in the form of answers to commonly-asked questions about Mortgage +Plus.  Full coverage exclusions and other details are reflected in the Policy provided to all Mortgage +Plus customers. You may also download a copy of these disclosures for additional information.
How Do I Receive Coverage?
For you to receive coverage:
Your home sale must be at least 2 years after your home purchase but no more than 7 years after your home purchase.  Historically, many homes have been sold during that 2- to 7-year period, but yours may or may not be.
Closing Disclosure Statement must indicate the property is going to be used as a primary residence as set out in the Certificate of Coverage.
Your sale must be to an unrelated third party and no leasebacks are allowed.
Why Would I Not Be Covered?
You will not be covered:
If you used your home for an illegal purpose
If your home is sold at foreclosure, transferred by a deed-in-lieu, or taken by eminent domain
How Will My Coverage Be Calculated?
Coverage only applies where:
The sale price of the home is lower than the purchase price you paid for the home, and
The Federal Housing Finance Agency (FHFA) Home Price Index (the "HPI") for your home's State at the time of sale is lower than it was on the date you purchased the home.

You can find your State's HPI at this website.

Under the caption Datasets, click on Quarterly All-Transactions Indexes. In the chart titled All-Transactions Indexes (Estimated using Sales Prices and Appraisal Data), go to States (Not Seasonally Adjusted), and click on your preferred file format, [TXT] or [CSV].
Your pay-out would be the least of the amounts calculated below:
Your down-payment (up to 20% of home purchase price);
The actual equity you lost (which is the difference between the price you paid for your home and the price for which you sold it less any real estate commissions or other similar expenses); or
The purchase price of the home times the reduction in your State's HPI.
Examples of how this "lesser of" calculation works are provided below under How Does the Policy Payout?
This insurance will not cover:
Cost of improvements that you make to the home
Prepayments toward the loan balance
Real estate brokerage and other costs associated with the purchase or sale of the home
How Does The Policy Pay Out?
As an example, assume you buy a home for $100,000 and put 20% (or $20,000) down.  In 5 years, you decide to sell. The table below shows how your pay-out would depend on the sale price and the change in the HPI.  As the table below shows, you could have:
No pay-out if you sell at or above the price you paid for the home, or if the HPI for your State has not decreased. These two scenarios are shown with white shading in the table.
A pay-out of less than your down payment if either the sale price or the HPI fell only modestly.  Those scenarios appear in light green shading.
A full refund of your down payment if the sale price and the HPI fell by at least 20%.  Those scenarios appear in darker green shading.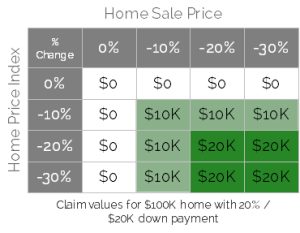 How Are Coverage Premiums Paid?
Your coverage premium may be:
Paid by First Heritage Mortgage and included in the quoted interest rate disclosed on your Loan Estimate.
Paid by you or a third-party and disclosed as a charge on your Loan Estimate and is due at settlement.
Paid partially by you and partially by First Heritage Mortgage and partially included in the quoted interest rate and partially disclosed as a charge on your Loan Estimate and is due at settlement.
What If My Coverage Is Paid For By First Heritage Mortgage?
If First Heritage Mortgage pays for your Mortgage +Plus coverage, you may be charged a higher interest rate, which would increase your monthly or periodic loan payments.
Additional Questions?
For further information and assistance related to Mortgage +Plus:
*NOTE: Coverage restrictions apply. Please refer to fhmtgplus.com/faq for important information and disclosures on Mortgage +Plus℠ down payment protection and how it works.
Mortgage +Plus by First Heritage Mortgage is distributed by PVI Agency, LLC. PVI Agency, LLC dba ValueInsured is a licensed agency in all 50 states and the District of Columbia, and is not affiliated with First Heritage Mortgage. Terms and conditions of the insurance described herein as Mortgage +Plus, including pricing, are determined solely by the issuer of the coverage and not by First Heritage Mortgage. The description of Mortgage +Plus contained herein should not be considered as a solicitation nor an offer to provide such insurance in any jurisdiction whatsoever where it would be unlawful to do so. Approval of your mortgage loan from First Heritage Mortgage will not be conditioned upon your obtaining Mortgage +Plus down payment protection.