We all dream of our perfect home. Maybe yours has a spacious backyard for your pets to roam. Or perhaps it's an apartment with a nice view of the sunset each evening. While it's easy to visualize what you want your house to look like, the financial aspect might seem more out of reach.
As we often discuss on our blog, there are more ways than ever to achieve homeownership today, no matter where you are in your personal financial situation.
In this post, we will introduce you to the FHLB Grant program, its history, how to qualify for it, and how it can help reduce your principal, down payment, and closing costs.
What is the FHLB?
The Federal Home Loan Bank Act (FHLB) was passed and enacted in 1932 by President Hoover amid the Great Depression. The Act created Federal Home Loan Banks (FHLBanks), a network of 11 regional banks that act as wholesale suppliers on lendable funds. More simply, that means the FHLBanks provide funds to local financial institutions for them to lend to you in the form of a mortgage.
The structure of the FHLBanks is important because it ensures local banks have access to funds to be competitive and offer a variety of loan programs to buyers.
What is an FHLB Grant?
FHLB Grants are available to qualifying homebuyers and can be used to reduce your principal, go towards your down payment or closing costs, and cover rehabilitation costs.
These FHLB Grants are authorized through the Affordable Housing Program (AHP), so you may see them also referred to as AHP Grants. The AHP was created in 1990 and is funded by the FHLBanks. Each bank contributes 10% of its earnings to its AHP, with the intention of helping low and moderate-income households achieve homeownership.
How Do You Qualify?
FHLB Grants are available to first-time homebuyers, community partners, veterans, and returning veterans.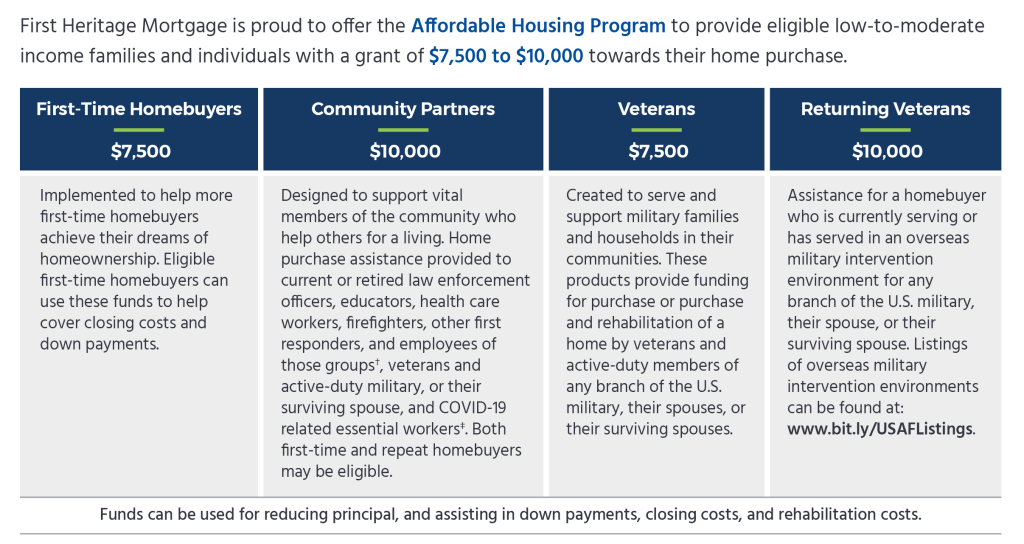 To qualify for owner-occupied grants, which means the house will be your primary residence, your household income must be 80% or less of your county's median income.
There are also grants available for rental properties where at least 20% of the units will be affordable for and occupied by very low-income households, defined as incomes at 50% or less of the median county income.
Additionally, there are designations like community partners, which include vital community members who help others for a living. Law enforcement, educators, health care workers, firefighters, and other first responders fall into this group. For more information on how to qualify for this group, it's best to speak with a loan officer, as they are experts on these programs.
How Much Can A Grant Save Me?
The programs we offer at First Heritage Mortgage provide low-to-moderate income families and individuals between $7,500 and $10,000 towards their home purchase.
To give you a real-world scenario, take a look at how a homebuyer in Maryland could save $21,777 on their closing costs through the Maryland Mortgage Program (MMP), a provider of FHLB Grants. They then need to put down just $2,096 and their monthly payment goes up by only $80.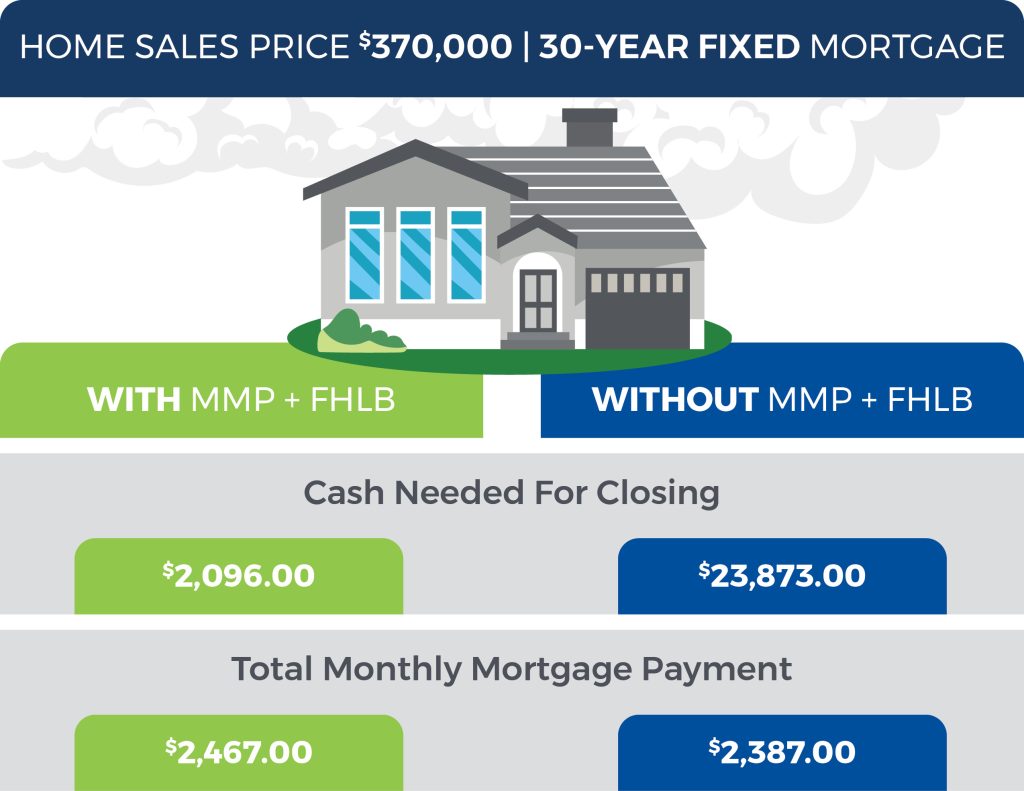 Whether you take advantage of an FHLB Grant, or another program, it's important to know that many programs are available to help you achieve your goal, and you don't have to find them on your own.
Connect with a First Heritage Mortgage loan officer who will review your personal financial situation and position you to take advantage of the best loan program for you.
The included content is intended for informational purposes only and should not be relied upon as professional advice. Additional terms and conditions apply. Not all applicants will qualify. Consult with a finance professional for tax advice or a mortgage professional to address your mortgage questions or concerns. This is an advertisement. Prepared 3/4/2021.
*Disclaimer for Maryland Mortgage Program scenario:
THIS PRODUCT OR SERVICE HAS NOT BEEN APPROVED OR ENDORSED BY ANY GOVERNMENTAL AGENCY, AND THIS OFFER IS NOT BEING MADE BY AN AGENCY OF THE GOVERNMENT. For more information and additional requirements of the Maryland Mortgage Program, please visit: www.MMP.Maryland.gov.
"With MMP + FHLB" financing based on the home sales price shown in the chart above with a first and second mortgage. First mortgage is a 30-year FHA fixed-rate loan with 102.05% CLTV, 3.625% interest rate, and 4.818% APR. Second mortgage is a 15-year fixed-rate loan with 0% interest. The monthly payment includes combined principal and interest for the first and second mortgage as well as estimated fees for taxes, homeowners insurance, and mortgage insurance.
"Without MMP + FHLB" financing based on the home sales price shown in the chart above with a 30-year FHA fixed-rate loan, $12,950 down payment amount, 3.625% interest rate, and 4.818% APR. The monthly payment includes estimated fees for taxes, homeowners insurance, and mortgage insurance.
Criteria for loan program qualification and interest rates on loan programs will vary based on credit criteria, final amount of down payment, and are subject to current market pricing. APR may vary depending on rate and final loan program. Rates are effective 02/23/2021 and subject to change without notice. The stated range may change or not be available at the time of commitment or lock-in. This is an advertisement and not a guarantee of lending. Terms and conditions apply. All approvals subject to underwriting guidelines. Prepared 02/23/2021.