Your Credit Score and Your Mortgage
The information in your credit report has a huge impact on whether or not you qualify for a mortgage loan and what interest rate a lender will offer. Therefore, it's important your credit report reflects a positive image of the way you manage your money. If you're getting ready to buy a home, checking your credit report is the best way to ensure you get the loan and interest rate you deserve.
Before deciding on what terms lenders will offer you on a loan (which they base on the "risk" to them), they want to know two things about you:
Your ability to pay back the loan
Your willingness to pay back the loan
For your ability to pay back the loan, they look at your income-to-debt obligation ratio. For your willingness to pay back the loan, they consult your credit score.
The most widely used credit scores are FICO scores, which were developed by Fair Isaac & Company, Inc. Your FICO score is between 350 (high risk) and 850 (low risk).
Credit scores only consider the information contained in your credit profile. They do not consider your income, savings, down payment amount, or demographic factors like gender, race, nationality or marital status. In fact, the fact they don't consider demographic factors is why they were invented in the first place. "Profiling" was as dirty a word when FICO scores were invented as it is now. Credit scoring was developed as a way to consider only what was relevant to somebody's willingness to repay a loan.
Past delinquencies, derogatory payment behavior, current debt level, length of credit history, types of credit and number of inquiries are all considered in credit scores. Your score considers both positive and negative information in your credit report. Late payments will lower your score, but establishing or reestablishing a good track record of making payments on time will raise your score.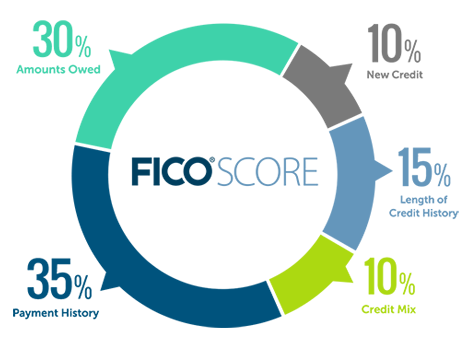 The following is a breakdown of how the Credit Score is put together:
35% is based on your specific payment history
30% is based on your current level of indebtedness
15% is based on the length of time your open credit has been in use
10% is based on your pursuit of new credit
10% is based on you holding a good mix of revolving credit
Your credit report must contain at least one account which has been open for six months or more, and at least one account that has been updated in the past six months for you to get a credit score. This ensures that there is enough information in your report to generate an accurate score. If you do not meet the minimum criteria for getting a score, you may need to establish a credit history prior to applying for a mortgage.

Scoring Your Credit – How's Your FICO?
In today's increasingly automated society, it should come as no surprise that when you apply for a mortgage, your ability to pay can be reduced to a single number. All the years you've been paying your mortgage, car payments, and credit card bills can be analyzed, sliced, diced, spindled and mutilated into a single indicator of whether you're likely to meet your future obligations.
All three of the major credit reporting agencies ( Equifax, Experian and TransUnion) use a slightly different system to arrive at a score. The best known is called the FICO score, based on a model developed by Fair Isaac and Company (hence the name) and used by Experian. Equifax's model is called BEACON, while TransUnion uses EMPIRICA. While each of the models considers a range of data available in your credit report, the primary factors are:
Different portions of your credit history are given different weights:
Credit History – How long have you had credit?
Payment History – Do you pay your bills on time?
Credit Card Balances – How much do you owe on how many accounts?
Credit Inquiries – How many times have you had your credit checked?
These items, and others, are assigned a value and a weight. The results are added up and distilled into a single number. FICO scores range from 300 to 850, with higher being better. Typical home buyers likely find their scores falling between 600 and 850.
FICO scores are used for more than just determining whether or not you qualify for a mortgage. Higher scores indicate you are a better credit risk, and thus may qualify for a better mortgage rate.
Learn more about FICO scores with this free guide, "Understanding Your FICO Score."
What can you do about your FICO score? Unfortunately, not much. Since the score is based on a lifetime of credit history, it is difficult to make a significant change in the number with quick fixes. The most important thing is to know your FICO score and to ensure that your credit history is correct.
Conveniently, Fair Isaac has created a website (www.myFICO.com) that lets you do just that. For a reasonable fee, you can quickly get your FICO score from all three reporting agencies, along with your credit report.
Also available is some helpful information and tools that help you analyze what actions might have the greatest impact on your FICO score. Each of the credit services offers similar services on their websites:
You may want to request a copy of your credit score from each agency because the three agencies are independent of each other and the information may differ on all three reports. In addition, you may not know which agency your lender will use to check your credit, so it's best to verify that all three have correct information about your credit history.
If you've been denied credit, insurance, or employment because of information in your credit report from any of the three agencies, you can obtain a free credit report by contacting the agency within 60 days of receiving a denial notice.
In addition, you're entitled to a free copy of your report each year when you certify in writing that (1) you're unemployed and looking for a job within 60 days, (2) you're currently on welfare, or (3) your report contains errors due to fraud. Otherwise, the agencies charge a fee for a copy of your report.
Armed with this information, you will be a more informed consumer and better positioned to obtain the most favorable mortgage available to you.