If you're looking to purchase your first home, you could begin the process by applying for a Mortgage Credit Certificate (MCC) and possibly saving thousands of dollars. A helpful non-profit to familiarize yourself with if you are searching for a home in Virginia is the Virginia Housing Development Authority (VHDA) which serves as a great resource for first-time homebuyers and offers fantastic programs with the MCC.
What exactly is an MCC?
MCC's are certificates issued by Housing Finance Agencies (HFA's) that are designed to help first-time homebuyers qualify for a home loan by reducing their tax liabilities below what they would otherwise have to pay. With an MCC, borrowers can receive a dollar-for-dollar tax credit for a portion of the mortgage interest they pay each year.
The credit is equal to 20 percent of the annual mortgage interest you pay.
The remaining 80 percent may still be taken as a tax reduction.
The MCC is effective for the life of your mortgage, as long as you live in the home.
You should keep in mind that there is a difference between tax deductions and tax credits. Tax deductions reduce your taxable income which in turn lowers your tax liability. On the other hand, tax credits are subtracted directly from your total federal income tax and can reduce your tax liability even more.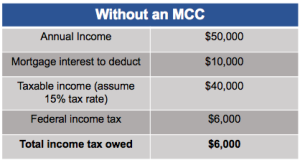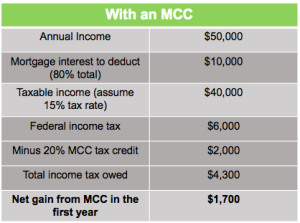 How do you know if you are eligible?
To get started you must apply for an MCC with an approved lender and receive a commitment from VHDA prior to closing.
You are a first-time homebuyer – specifically have not owned a home in the last 3 years.
You are purchasing a home in Virginia.
Have income at or below the maximum household income limits.
Purchase a home below the maximum sales price/loan limits.
Use the home as your primary residence.
In conclusion, MCC's can potentially increase borrowers' payment affordability and help lenders qualify low-and-moderate-income borrowers for a loan. Before taking the credit, you should seek the advice from the right lender to help you decide whether the MCC will ultimately benefit you.
The included content is intended for informational purposes only and should not be relied upon as professional advice. Consult with a finance professional for tax advice or a mortgage professional to address your mortgage questions or concerns. This is an advertisement. Prepared 11/13/2018.