Receiving a check from the IRS is exciting – but making the decision on what to actually do with the extra money in your pocket can be difficult. You worked hard for your tax refund, so now it's your refund's turn to work hard for you! Right now, the current average tax refund according to the IRS is $1,949. Here are five ways your tax return could bring you value this year.
1. Save Up for A Down Payment
If you're in the market to buy a home, a tax refund could be the boost you need to save for a down payment. With that extra tax return cash in your pocket, you could be able to move into your dream home sooner than you originally thought!
2. Pay Down Debt or Prepay Your Mortgage
If you already have a mortgage, paying a little more on your monthly payment means you'll be paying less on interest and gaining more equity. The same goes for credit cards, student loans, car loans, etc. Your tax refund can help pave the pathway towards your financial freedom.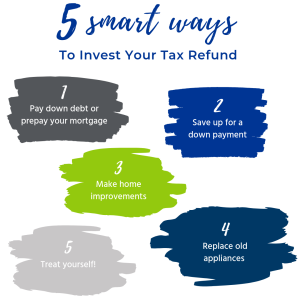 3. Make Home Improvements
There's no place like home – so making it look more appealing can improve your daily quality of life. Simple DIY projects like freshening up the paint on your walls, installing new fixtures, and remodeling areas of your kitchen or bathroom can make you feel great and increase the value of your home.
You worked hard for your tax refund, so now it's your refund's turn to work hard for you!
4. Replace Old Appliances
Old appliances aren't only a pain to deal with, they may also be costing you more money and lowering your home value! Simply by purchasing a new energy-efficient refrigerator or oven you could potentially lower your monthly utility bill and update the overall look of your kitchen.
5. Treat Yourself!
It's never a bad thing to treat yourself to something that makes you feel happy. If you've already paid down your debt over the years, it may finally be time to use that hard-earned money for something you've had on your mind for a long time. The choice is ultimately up to you!
---
For questions about saving for a down payment, or general questions about mortgage financing, reach out to one of our certified mortgage experts.
---
This is not financial management advice. Please consult your financial advisor for financial management advice. The included content is intended for informational purposes only and should not be relied upon as professional advice. Consult with a finance professional for tax advice or a mortgage professional to address your mortgage questions or concerns. This is an advertisement. Prepared 4/18/2019.