It's that time of year again: the pools are open, the graduations are in full swing, and everyone's calendars are quickly booking up with family and friend-filled festivities. If you've put your name on the hosting list this summer, we've got some tried and true tips to help you throw a total stress-free backyard bash this season.

1. Prepare Ahead of Time
Waking up the day of your event and having the peace of mind knowing you have very minimal work to do is a great feeling. You can truly enjoy your day and relax with your guests at your party. Here is everything you should prep for before your party:
Food – Make your dishes ahead of time so all you have to do is pull them out of the refrigerator before serving! If you're grilling, you can prep your meats by seasoning and marinating them overnight.
Beverages – If you are serving a cocktail like sangria or punch, make sure you have all the necessary ingredients in your pantry before the day of the party. Make sure you have other options available like sodas or mocktails for those who don't drink alcoholic beverages.
Decorations – Don't forget to have your tablecloths, napkins, cups, etc. ready to be put on the serving table! Make sure you have an extension cord or two on hand if you are planning to have music, lights, or anything that needs an outlet.

2. Make Your Space Comfy
Focus on having some seating areas planned out so your guests aren't forced to stand the entire time. If you don't have outdoor furniture, consider bringing out some extra dining chairs or a table. If you're not sure that you want to bring your furniture outside, you can set up blanketed areas or rent outdoor furniture.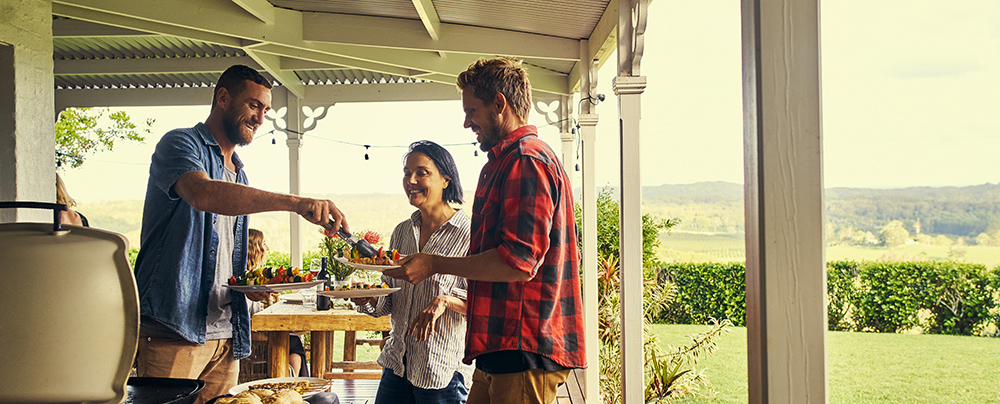 3. Maximize on Shaded Areas
The sun beaming down can get pretty intense during an outdoor party, so be sure to set up some umbrellas or place seating areas under shady areas. You may even consider bringing out some bed sheets and creating a DIY canopy over your deck or patio.

4. Set the Mood with Decor
Don't leave your guests in the dark! When the sun goes down, you want to make sure your guests can still see. The perfect fix is setting up some string lights around – you could string some around a nearby branch to create a cozy glow. You may even set up a DIY fire pit and make some smore's later on in the night!

5. Create an Easy Spread
Your spread of food shouldn't be too difficult to set up – keep it simple. Appetizers and finger food are a good idea to tie your guests over until the main event. Stick to grilling outside for an easy-to-eat dinner that allows you to socialize with your guests while making. As for drinks, consider putting together one curated cocktail rather than having an entire bar set up.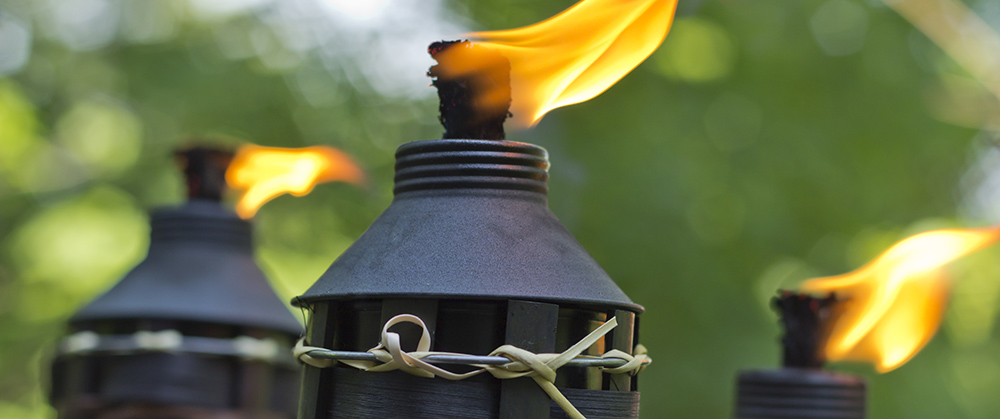 6. Keep the Bugs at Bay
Don't extend your invitation to mosquitos and other pesky insects. Cover your food with foil or wrap so your dishes don't get ruined by bugs. Consider setting up some citronella candles around so your guests won't have tons of bites by the end of the night. The candles can also help light up the backyard as the sun goes down and add some great ambience.

7. Entertain Guests at All Ages
If you're having guests with kids, you want to make sure they have fun too! Set up some fun outdoor games such as cornhole that is a great form of entertainment for guests of all ages. S'mores are also always a crowd-pleasing treat for your guests to enjoy at the end of the night – another plus, you won't have to worry about whipping up a dessert.
Throwing a stress-free party takes some planning ahead of time – consider making a grocery list of items you need and beginning a few days ahead of your event to make sure you have everything you need.
This is not financial management advice. Please consult your financial advisor for financial management advice. The included content is intended for informational purposes only and should not be relied upon as professional advice. Consult with a finance professional for tax advice or a mortgage professional to address your mortgage questions or concerns. This is an advertisement. Prepared 6/19/2019.