It's almost time for your favorite day in the loan process: closing! As your closing date draws near, there is a lot of information coming at you fast. An important step before that final milestone is receiving your closing disclosure.
The closing disclosure form is an extensive resource for buyers. It follows a standardized format and is intended to provide one-stop access to all of your loan details. We will guide you through understanding and utilizing your closing disclosure to ensure you are ready to sign on the dotted line and move into your new home.
What is a Closing Disclosure?
Your closing disclosure is a five-page document that you receive at least 3 days before your closing. It details all of the important, finalized aspects of your loan, including: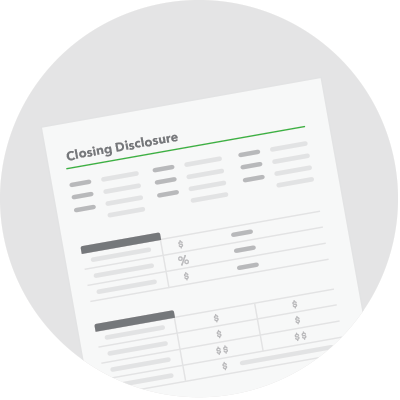 Purchase price
Loan/origination fees
Interest rate
Estimated real estate taxes and insurance
Closing costs
Any other loan-related expenses
It's critical that you pay close attention to the items listed in your closing disclosure because some amounts and terms might have changed from your loan estimate.
What is The 3-Day Rule and How Does It Affect Me?
Lenders are required by law to provide buyers with a standardized closing disclosure form at least three (3) days prior to closing. This regulation went into effect in 2015 as part of the TILA-RESPA Integrated Disclosures guidelines.
The 3-day rule gives you ample time to review your mortgage's final terms before you sign your closing documents, fully completing the loan process. If anything needs to change in your loan terms, a new closing disclosure must be issued, and a new 3-day waiting period begins. It's because of this that lenders are careful to issue closing disclosures once closing costs and fees are set.
The 3-day rule protects you and gives you a predictable timeline to familiarize yourself with for your closing:
Closing costs are calculated and finalized.
Your Closing Disclosure form is issued.
The 3-Day Rule goes into effect.
You sign your Closing Disclosure acknowledgment.
Sections of the Closing Disclosure
Your closing disclosure form should look familiar because it's designed to follow a similar format: the one you already saw on your loan estimate.
Section 1: Loan Terms
This is where you'll find the total amount you're borrowing, the interest rate, and your monthly principal and interest payment. It's also where terms like prepayment penalties and balloon payments will show up.
Section 2: Projected Payments
Here's where you will get a breakdown of your estimated monthly payments, including any mortgage insurance and escrow payments. This is very useful because they're the final calculations on how much you will owe each month for your mortgage.
Section 3: Costs at Closing
This gives you a high-level overview of any loan costs and down payments. You will see exactly how much cash you're bringing on closing day.
Section 4: Closing Cost Details
There is a detailed breakdown of costs paid by the buyer and seller. Charges and fees are broken down in the same format you'll recognize from your loan estimate, explaining those that the buyer was able to shop for and others that were set by the lender or title company.
Section 5: Summaries of Transactions
A new section you didn't find on your loan estimate is Summaries of Transactions. On the left side of this page, there is a calculation of all charges, adjustments, and credits to the buyer. Then, on the right side, there is a similar breakdown for the seller. The last line in each column clearly indicates the cash flow to or from each party and the exact amounts.
Understanding Terms in the Loan Disclosure section
Towards the end of your closing disclosure, on page 4, you'll find the headline Loan Disclosures. The section might seem dense, but it's critical that you take the time to review it because it provides important details about your loan and fee structure.
Assumption refers to whether or not your lender will let someone else take over the loan will little to no change in the terms.
Demand Feature is a tool for your lender that allows them to require immediate payment of the entire loan balance. If this is checked, there will be additional terms made available to you.
Late Payments outlines penalties to be imposed for paying your monthly payment late.
Negative Amortization means that as you pay your monthly payments, the amount total loan amount will increase because you're not paying enough to cover the interest. This happens when your lender allows you to make payments lower than the interest you owe. It is typically risky because you can end up owing more than your house is worth.
Partial Payments outlines your lender's terms and if you are permitted to make partial payments in a month where you can't make the full payment. Your lender may treat these payments differently, and this section outlines the rules governing them.
Security Interest is your lender's way to protect their financial interest in the loan. If you don't fulfill your loan terms, the lender can take the home and sell it to recover the unpaid balance.
Escrow Account shows how much you will be paying monthly to cover homeownership expenses like property taxes and homeowner's insurance if an escrow account is included with your loan. These costs are included in your Projected Payments section. Escrow accounts are a great way to stay on top of these fees and prevent stress about these expenses.
If you'd like to dig deeper into any of the sections in your closing disclosure, we recommend using the CFPB's Closing Disclosure Explainer tool. You can click into any section of the disclosure with it and get detailed explanations and definitions of terms with which you may not be familiar.
---
Just as we've guided you through understanding and reading a closing disclosure today, our loan officers are ready to be your trusted guide in the mortgage process.
Get to know our team and reach out when you're ready to get started in your homeownership journey.
The included content is intended for informational purposes only and should not be relied upon as professional advice. Additional terms and conditions apply. Not all applicants will qualify. Consult with a finance professional for tax advice or a mortgage professional to address your mortgage questions or concerns. This is an advertisement. Prepared 3/11/2021.