Everyone gets excited about buying a new home, but selecting the loan program you'll use and figuring out how much money you should put down aren't typically met with as much enthusiasm.
While figuring out the financing may not seem as interesting, it doesn't have to be an overwhelming or confusing experience. We will be your guide to mortgage down payments, covering why you need a down payment, how your loan program will affect the amount you'll need to put down, and the advantages of higher and lower down payments. When we're finished, you'll be confident and ready to move along to the next steps in your homeownership journey.
What is a Down Payment?
A down payment is cash paid upfront reducing how much of your home purchase you need to finance. You'll take your purchase price, subtract your down payment, and the remaining amount is how much you'll finance with your lender.
There is a pretty wide range of how much you could be required to put down when buying a house. Some buyers prefer to pay 20% down so they can avoid additional costs like private mortgage insurance. There are even loan programs that allow you to put nothing down. That's why it's important to start exploring loan programs as you begin to plan for your down payment.
Review Loan Programs and Their Down Payment Requirements
Each loan program will carry its own guidelines and requirements. We recommend doing some research or speaking with a mortgage professional to narrow down which loan programs you're likely to qualify for and ultimately utilize to finance your home.
Some common types of loans and their minimum down payments are:
Conventional Loans require putting at least 3% down.
FHA Loans allow for down payments as low as 3.5%.
Veterans Affairs (VA) Loans can allow you to finance 100% of the purchase price, resulting in no down payment.
USDA Loans can also allow you to finance with no down payment.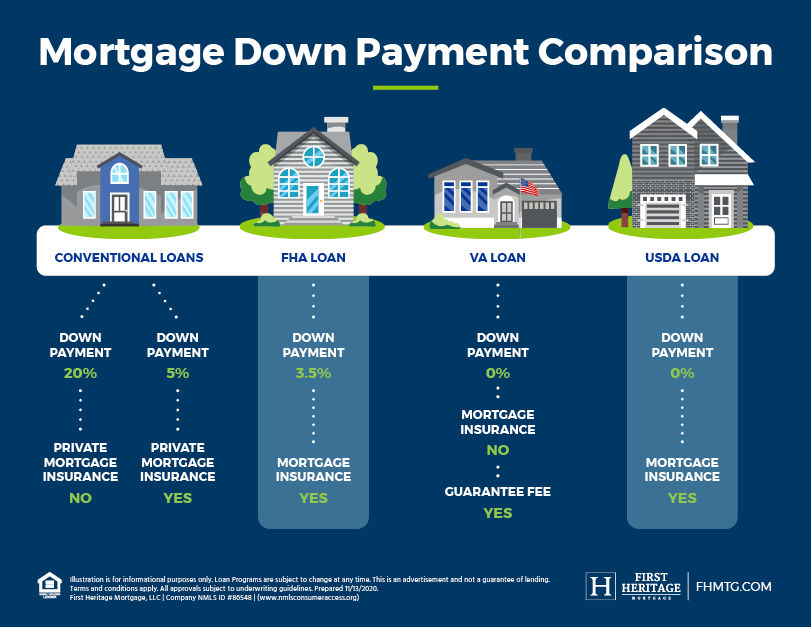 Looking for the Right Mortgage Program?
You don't have to figure it out on your own. Our team is here to help you decide which loan program is best for your home purchase.
Establish a Budget to Save for Your Down Payment
After you've determined which loan program you're most likely to use to finance your home, you can begin planning your budget. With a target down payment amount in mind, you can assess whether you can comfortably afford that immediately or if you need to start saving for it.
As you work on your home buying budget, the most important factor to consider is your timeline. If you're looking to buy within the next month, you would need to have your down payment funds readily available, compared to a 6-month or year timeline that would give you more time to save.
And even if you have funds saved up for your down payment, it's a good idea to set aside some savings for any unexpected expenses that might pop up while you're buying your home or as you're settling in as a new homeowner.
Benefits of a Larger Down Payment
There are several benefits of making a larger down payment, such as 10 or 20 percent.
Lower your monthly mortgage payment. The more you're able to pay out-of-pocket upfront means less that you're financing with a lender. This in turn lowers the amount you'll pay in interest fees and loan costs.
A higher down payment can usually net you a better interest rate.
If you put down 20% or more, you can avoid Private Mortgage Insurance (PMI).
You have more equity in your home from the beginning, giving you quicker access to using that equity if you need to with options like a cash-out refinance.
While these are great reasons to make a larger down payment, don't fret if you can't put 10 or 20 percent down. There are also advantages to utilizing loan options that allow for lower down payments.
Loan Programs That Help You Lower Your Down Payment
While it may be alluring to think about how much you can save over the long term with a larger down payment, there's also a lot of positives when it comes to loan programs that allow you to buy a home with much less cash upfront.
You can typically save for your down payment over a shorter period of time, since you're putting down a lower amount.
You get to keep your cash reserves for homeownership expenses, renovations, upgrades, or other needs.
Your savings are liquid (in cash form) instead of being tied up in your home equity.
---
After learning about the various types of loan programs, their different down payment requirements, and the benefits of putting more money down versus taking advantage of lower down payment options, you might still be left wondering what route is the best for you.
The decision will be mainly influenced by the loan program you end up financing your home with. Getting pre-qualified with your lender will help you narrow down which loan programs are best for your purchase and help you make final determinations about your down payment and budget. Talk to our team today.
This post contains links to other websites that are not hosted or controlled by FHM. FHM is not responsible for their content or the content of any information linked to these websites. Links to other websites are provided as a convenience to our visitors and do not imply any endorsement by FHM of information contained in these websites or the organizations that support them.
The included content is intended for informational purposes only and should not be relied upon as professional advice. Additional terms and conditions apply. Not all applicants will qualify. Consult with a finance professional for tax advice or a mortgage professional to address your mortgage questions or concerns. This is an advertisement. Prepared 9/9/2021.