The Mobile Solution for Modern Borrowers
---
With LoanNow, we've made everything more convenient for our clients. Our app provides mobile-first technology to make the home buying and mortgage process simple and totally stress-free. We put all the tools you need in once place so that you can close your loan faster and more efficiently than before.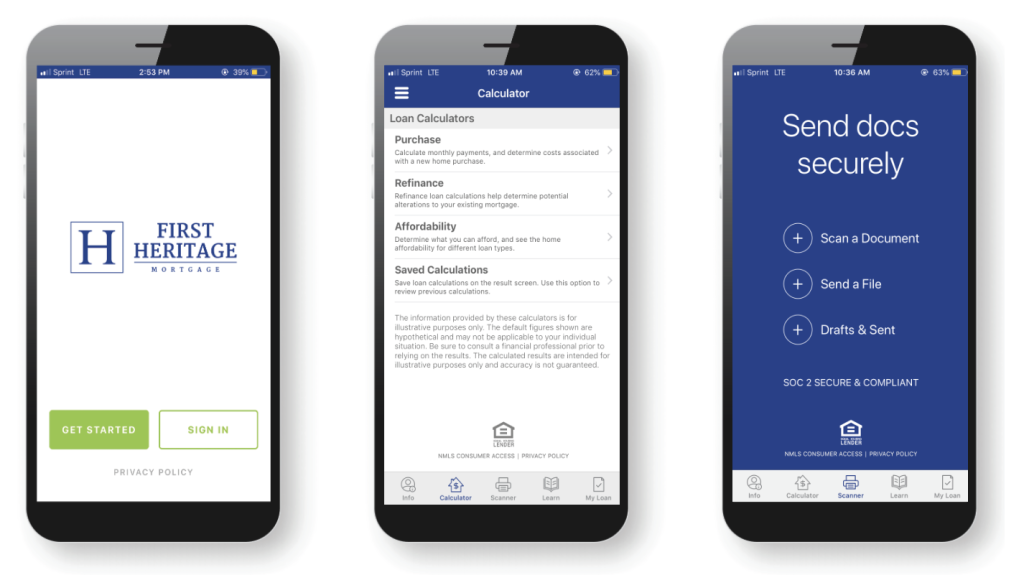 Remember Everything Important and Stay Organized on the Go
Once you download our app, you can start the application process anywhere. Instead of worrying about how you're going to send your required documents to your loan officer, you can securely send documents just by taking a picture with your phone. If you have a question or need to call, you can easily access your loan officer or agent within the app.
Watch the Video
Seamlessly Collaborate with Your Team
Agents and referral partners can take advantage of LoanNow to capture more business, gain client insight, and improve the overall buyer experience. Once you are set up with the app, you can easily share it with your clients to take your business mobile.
Watch the Video
Features Designed to Simplify Your Life
---
Mortgage Calculator
Accurately calculates rates for FHA, Conventional, USDA, and VA loans.
Gives borrowers a complete view of what their monthly payments might be
Shows borrowers all their options with an affordability calculator.
Effortlessly Upload Documents
Borrowers have the ability to upload required documents simply by taking a picture with their phone's camera.
The document scanner is both CFPB compliant and AICPA secure, meaning all uploaded documents are secure with bank-level encryption.
Borrower Alerts and Push Notifications
Receive reminder alerts for required documents and deadlines.
Stay on track of your loan with milestone notifications as it progresses.
Paperless Organization
Take your mortgage information with you wherever you go.
Eliminate your paper load by designating a single spot for your documents.
Save time by having all the information you'll ever need loaded within the app.