A CRM with Real Estate–Specific Capabilities
---
Total Expert offers an eclectic combination of contact management, lead nurturing, and branding. Provided free to our partners at Samson Properties, this CRM provides the foundation for your modern marketing & sales needs. Nurture relationships and reach consumers with the right message at the right time, enabling a smooth home buying process.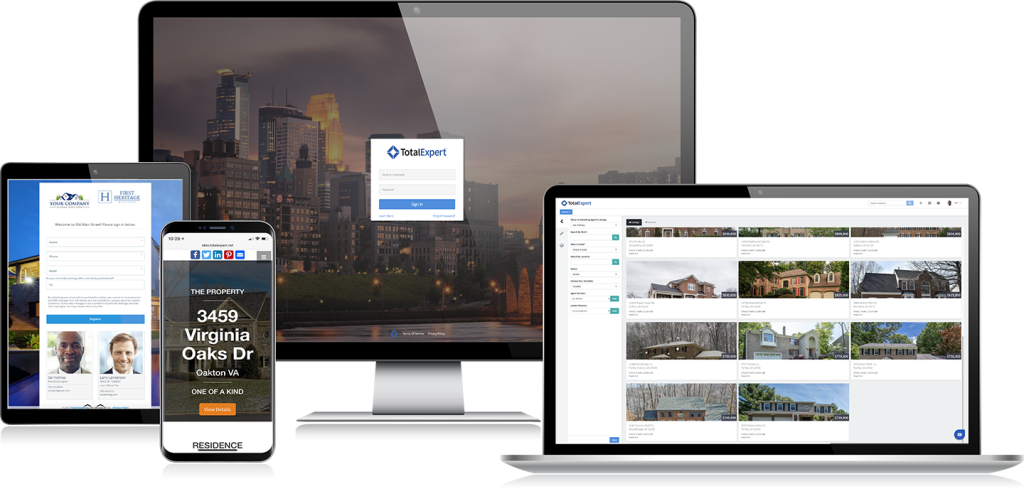 Track Contacts & Nurture Leads
Store up to 2,000 leads, clients, and other business contacts
Stay organized with contact groups and easy segmentation
Keep in touch with your contacts, and build stronger relationships
Increase referrals with more consistent contact with your customers
Mortgage Marketing Suite
Access a growing library of professionally designed marketing materials
Present your properties to potential buyers
Educate your clients about the home buying process
Each piece of collateral is custom branded with your headshot and contact information
Capture Open House Leads
Open house visitors sign in with a simple form on your laptop or tablet
Contact information is instantly added to your database
Automated drip campaigns provide personalized follow-up without you lifting a finger
Create Gorgeous Listing Websites
Tie your listings directly to your Total Expert profile for easy access
Create gorgeous mobile-friendly websites in less than 60 seconds with pre-made templates that pull property listing information directly from the MLS database
Brand your website and easily share with minimal effort
Step Up to the Next Level with Instructor-Led Trainings
Spend less time on the learning curve and more time on your business. Get up to speed fast with both live and on-demand training sessions. Attend featured trainings that focus on onboarding, best practices, and feature spotlights by the Total Expert support team, or get catered training sessions provided by your Loan Officer and the First Heritage Mortgage Marketing Team.
View On-Demand Trainings
Additional Total Expert Trainings
---
Total Expert Overview for Real Estate Professionals
Total Expert Overview for Real Estate Professionals
6 Minutes
In this video, Partners will get a high-level overview of Total Expert's incredible benefits. You will see how Total Expert helps you gain more traffic, utilize email marketing via drip and auto-campaigns, access a library of marketing materials, showcase property listings in beautiful custom templates, and more!
Total Expert Basics for Real Estate Professionals
Total Expert Basics for Real Estate Professionals
58 Minutes
In this session, Partners new to Total Expert will learn how to leverage Customer Relationship Management (CRM) capabilities to build and maintain strong relationships. Partners will also learn about professional, easy-to-create marketing assets that can be used for co-marketing with First Heritage Mortgage Loan Officers.
One-on-One Training with FHM